Menno Van Dyke
From Circopedia
Juggler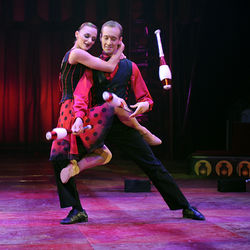 A native of Amsterdam, Holland, Menno Van Dyke studied dance before attending
Annie Fratellini
's Ecole Nationale du Cirque in Paris, where he specialized in juggling and trained under the great Italian juggler
Italo Medini
. Menno made his professional debut in 2002 and his solo career quickly took off. He performed in several European major circuses (
Cirque Arlette Gruss
in France,
Circus Maximum
in Sweden,
Circus Carré
in Amsterdam,
Circus Royal
in Switzerland...) and in variety theaters such as GOP Varieté and Starclub in Germany, and the Royal Palace Music-Hall of Kirrwiller in France. In 2006, he won the Special Prize of the Jury at the
Festival Mondial du Cirque de Demain
in Paris, and the Bronze Lion at the
International Circus Festival of Wuqiao
in China.
While working at at the Royal Palace Music-Hall, Menno met Emily Weisse, a French dancer who had trained at the Académie Internationale de Danse in Paris, and at the Rosella Hightower Ballet School in Cannes. For several years, Emily had performed internationally, and danced in major variety shows in France, including the Paradis Latin, the legendary Lido of Paris, and of course, the Royal Palace in Kirrwiller. Menno and Emily fell in love, and eventually got married.
In 2007, they decided to create an original, choreographed juggling act, bringing together excellent technique (missing a trickAny specific exercise in a circus act. is not allowed in a precisely choreographed act) and outstanding artistry; it became the highly acclaimed Juggling Tango. With it, Menno and Emily have performed in major varieté(German, from the French: ''variété'') A German variety show whose acts are mostly circus acts, performed in a cabaret atmosphere. Very popular in Germany before WWII, Varieté shows have experienced a renaissance since the 1980s. theaters in Germany, on cruise ships, and have won the Circus Roncalli prize at the SOLyCIRCO Festival in Wenningstedt-Braderup, on the Island of Sylt in Northern Germany. In the United States, they have been featured in the Big Apple Circus 35th anniversary production of Legendarium in 2012-2013.
See Also
External Link
Image Gallery