Duo Mouvance
From Circopedia
HELENE TURCOTTE & LUC MARTIN — Double Trapeze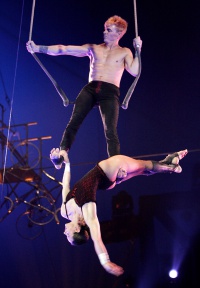 Hélène Turcotte was born in 1962 in Montréal, in the Province of Quebec, Canada. Since her middle-class family had no connection with the circus world, Hélène went through a traditional schooling, graduating in 1982 with a degree in Social Sciences at Montreal's Collège Ahunstic. But the previous year, her interest in gymnastics and physical activities had led her to join Le Nœud d'Ersault, a trapeze school in Montreal.
There she began learning aerial arts, and met Luc Martin. After a short stint at Annie Fratellini's Ecole Nationale du Cirque in Paris in 1983, Hélène entered Montreal's Ecole Nationale de Cirque, which, in 1984, was still a fledging school—albeit already making its mark in the "New Circus" community. At the same time, she studied acrobatic dance with Michel Jodoin.
Born in 1961 in Jonquière, in the Province of Québec, Canada, Luc Martin had been an art student, while training in martial arts and practicing rock climbing. Circus was becoming hot in Montreal, and Luc went on to give it a try at Le Nœud d'Ersault. Smitten, he joined Montreal's Ecole Nationale de Cirque in 1986.
Both Luc and Hélène specialized as aerialists, and they decided to join forces and build an act together. With André Simard and Marie-Thérèse Lessard as teachers, and Michel Jodoin as choreographer, they eventually created a sensual aerial tango duet, Mouvance, which they began showing, in its early stages, at various events in Montreal in 1987.
Award-Winning Aerialists
In 1988, Hélène and Luc performed at the Canadian Pavillion at the Expo 88, in Brisbane Australia, and the following year, they presented their now-completed act (which then included a swinging section) at the Festival Mondial du Cirque de Demain in Paris. Their act was the revelation of the 1989 festival: It was the first time a trapeze duet was presented as a fully choreographed work. They won the Gold Medal.
Offers came immediately: the soon-to-be legendary TigerPalast in Frankfurt, the Sporting Club in Monte-Carlo, quickly followed by two seasons (1991 and 1992) with Circus Roncalli in Germany, then a pioneer of the New Circus movement. From 1993 to 1996, they were frequent guests of the groundbreaking German dinner-show, Pomp Duck & Circumstance, with which they went to Atlanta for the 1996 Olympics, via New York.
Duo Mouvance continued their very successful career in "varieté(German, from the French: ''variété'') A German variety show whose acts are mostly circus acts, performed in a cabaret atmosphere. Very popular in Germany before WWII, Varieté shows have experienced a renaissance since the 1980s." and Christmas circus shows in Europe, and from 2000 to 2004, they became a regular feature in the productions of the celebrated dinner-show, Teatro ZinZanni, in Seattle and San Francisco, in the United States. In 1997, they were invited to participate in the all-star Jubilee Gala of the Festival Mondial du Cirque de Demain in Paris. That same year, they also appeared at the International Circus Festival of Monte Carlo, where they won a Silver Clown.
Hélène and Luc have appeared in many TV shows in Europe, Canada, and the United States (including The Late Show with David Letterman on CBS), and were invited to participate in the circus star-studded tribute to the late Prince Rainier III of Monaco for the 30th anniversary of the International Circus Festival of Monte Carlo in 2006. This was to be Duo Mouvance's final appearance.
Since retiring from performing, Hélène Turcotte has been a trapeze teacher and Director of the Aerial Department for Circus Center in San Francisco, California, and she resides in San Francisco's Bay Area. Luc Martin also resides in San Francisco's Bay Area, and has created Pangym, in West Oakland, where he teaches the Pandora Training Technique—a comprehensive training method influenced by martial arts, aerial dance, and "Progressive Resistance Training."
See Also
Image Gallery
External Links