Oliver Groszer
From Circopedia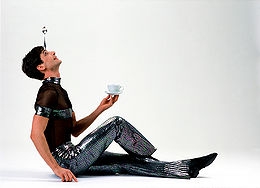 Juggler
By Dominique Jando

Oliver Groszer was born on October 13, 1966 in Berlin-Köpenick, then part of East Berlin in the German Democratic Republic (GDR). His mother, Franziska Groszer, is a celebrated writer whose activist work at the time was at odds with the Communist viewpoint, and evidently made her a threat to the political status quo in the eyes of the East-German regime. Oliver's father, Gert, developed radically opposite views in matters of politics, and he and Franziska eventually divorced when Oliver was four years old.
In March 1977, Franziska was finally banned by the East-German authorities, who forced her to leave the GDR. She, Oliver, and his sister Josefine crossed the Berlin Wall and moved to West Berlin; Oliver was ten. It was an entirely new life for them; Franziska later told of young Oliver's experiences in West Berlin in an award-winning book, Rotz und Wasser (2006).
Apprenticeship
Oliver was first exposed to performing at age fourteen, when he took theater classes in boarding school with an American teacher, Keith LeFever. (It is while playing Romeo, in Shakespeare's Romeo and Juliet that he met and fell in love with Eleni, who played Juliet opposite him and eventually became his wife… They married in 1999, in Rome, Italy.) At age seventeen, Oliver discovered juggling. He began to practice for fun, and then, after meeting a truly proficient juggler who amazed him with the tricks he showed him, Oliver started taking juggling seriously. On weekends, he went to perform on street corners in Heidelberg, where he was studying then.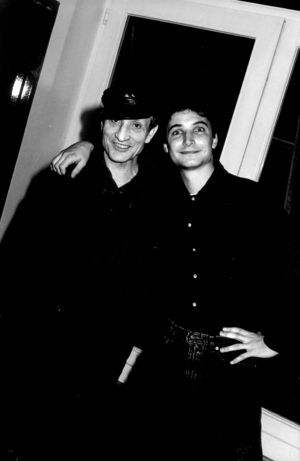 Back to Berlin, Oliver had made his mind: He would become a professional juggler. He teamed up with a partner, Detlef Winterberg, and together, they put on a forty-minute show that included comedy, mime, and juggling, called
Duo Ramsch Royal
. But he knew he still had a lot to learn: He had read books by the world's leading specialist in the history of juggling, Karl-Heinz Ziethen, and then, he went to see a conference at which Ziethen presented some of his impressive film collection of legendary jugglers, past and present. There, Oliver saw
Bobby May
's famous cigarette
trick
Any specific exercise in a circus act.
for the first time: "This blew my mind completely and I thought, this
trick
Any specific exercise in a circus act.
is better than anything I've ever seen," Oliver remembered.
This was an epiphany. Eventually, Oliver met Ziethen, who lives in Berlin, and became one of his protégés. Ziethen opened his juggling archive to him; Oliver could study Bobby May's trickAny specific exercise in a circus act. in detail, and Ziethen also told him that nobody did object balancing anymore—like the spoon sent with his foot to the juggler's forehead, for instance. Oliver went on to practice these rarely seen feats relentlessly. It took him three years to master the cigarette trickAny specific exercise in a circus act.! "Karl was a godsend," Oliver remembered, "I used to spend my days training, and my nights studying his videos, all the while learning from him. I hardly ever went home."
Since his girlfriend at the time went to take trapeze classes in Paris, Oliver joined her there, intent on devoting his time to a ferocious juggling practice regimen. Karl-Heinz Ziethen put him in touch with juggling legend Francis Brunn (1922-2004) whose companion, Nathalie Enterline, was then featured at the famous Lido cabaret in Paris. Francis Brunn, who was well known for his lightning-fast acrobatic and flamenco dancing presentations (beside his outstanding juggling), helped him as much as he could, notably with the spoon-balancing trickAny specific exercise in a circus act.. He was an important influence, as would also be Michael Moschen, who proved, like Brunn, very generous with his knowledge and support.
Brunn and Moschen were renowned for the artistic presentation of their acts, and Oliver knew that tricks only were not enough to succeed as a performer—unless one had the dazzling skills of Sergei Ignatov or Anthony Gatto (and even them had more than just exceptional skills). Oliver had to have a style of his own, something that would set him apart. The answer came when he saw a break-dancer named Kai Eikerman perform in a little theatre. Oliver met Kai and asked him to teach him. This was his first contact with body movements; later, he went on to train with a jazz dance group.
Award Winning Juggler
After his training time in Paris, Oliver returned to Berlin, where some of his friends were involved with the then-budding Archaos troupe, a heavy-metal, experimental circus troupe created by Pierrot Bidon—who had previously founded the Cirque Bidon, an alternative circus that traveled the French hinterlands with horse-drawn wagons. Archaos was then performing in Berlin; within a few years, it would become an extremely successful show, and the troupe would have a significant aesthetical influence on the "New Circus" movement.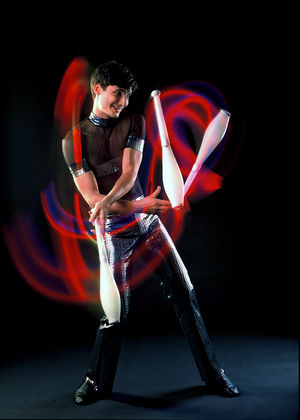 But Archaos was not there yet. Oliver performed his juggling act for the cast; then, a motorcycle stuntman performing in the show was injured, and Oliver was asked to fill the spot with his act. The year was 1989, and this engagement marked Oliver's professional debut. He toured with Archaos in Germany, Great Britain and France. In Paris, Archaos settled at the
Cirque d'Hiver
, which had become at that time a theatrical venue for hire. There, someone suggested that Oliver apply for the
Festival Mondial du Cirque de Demain
, which was scheduled for the end of January 1990 at the same Cirque d'Hiver.
Oliver thought he was not ready for such a competition, but having not much to lose, he proposed his candidature anyway. Not only was he accepted, but he also won a Silver Medal. The award presentation show was, as is the custom at the Festival, heavily attended by agents and directors, and Oliver's exceptional talent won them over: He was immediately offered several contracts. His juggling career was launched. (He would return to the Cirque d'Hiver in 1997 to participate in the Festival's Jubilee Gala, and serve on its Jury, in the company of such circus luminaries as David Shiner, Elena Panova, and Hélène Turcotte and Luc Martin.)
Oliver Groszer has since worked in China, Malaysia, Japan, and Bahrain, and in varieté(German, from the French: ''variété'') A German variety show whose acts are mostly circus acts, performed in a cabaret atmosphere. Very popular in Germany before WWII, Varieté shows have experienced a renaissance since the 1980s. all over Europe—in such prestigious venues as Frankfurt's TigerPalast, Berlin's Wintergarten, the GOP Varieté theaters, Copenhagen's Tivoli, among many others, and with Circus Roncalli at the World's Fair Expo of Seville, Spain, in 1991. Oliver has also appeared in numerous TV shows and TV commercials. His film, theater, and other credits include Benoît Bradel's Les premiers pas (1990) and Nom d'un chien (1996), Kagel Varieté, directed by Werner Herzog (1991), the final concert of Nina Hagen's European Tour (1996), and La Dia, a musical by Kees Janssen (2007).
Oliver has also conceived, written, directed, or performed in his own projects: Tabernac (produced by, and starring Meret Becker, Oliver Groszer, and Tilmann Lehnert), Opera Jonglage (idea and screenplay by Oliver Groszer and Klaus Sommerfeld), and Goldoni's Der Diener Zweier Herren (Harlequin, Servant Of Two Masters), directed by Achim Fredyer, for which Oliver assured the artistic direction with Eddy Castors.
Suggested Reading
Franziska Groszer, Rotz und Wasser — Eine Jugend in Ostberlin (Leipzig, München, Altberliner, 2006) — ISBN 9783866373044
See Also
External Link
Image Gallery