Italo Medini
From Circopedia
Juggler
By Dominique Jando

Italo Medini (1924-2015) was one of the greatest jugglers of the past century who worked in the Italian tradition exemplified by the legendary Enrico Rastelli. He and his twin brother, Franco (1924-2014) were born June 9, 1924 in Orléans, France, to Carlo Medini and his wife, Anna, née Périé, during an engagement of their parents with the Cirque Alphonse Rancy. A clown and acrobat, Carlo Medini belonged to an old and numerous Italian circus family; his wife, Anna, whom he married in 1920, was the daughter of Pierre Périé, the owner of a highly respected French provincial circus before WWII.
The Carlo Medinis
Italo made his circus debut at age three, as a miniature clown in his father's clown act. He would later become his father's whiteface clownGeneric term for all clowns and augustes. '''Specific:''' In Europe, the elegant, whiteface character who plays the role of the straight man to the Auguste in a clown team., in which role he showed great proficiency as a saxophone and concertina player. Quite early, too, Italo became part of the Carlo Medini aerial casting and acrobatic act. He found his true calling, however, when he saw the German juggling prodigy Trixie Firschke (1920-2001), with whom the Medinis shared a bill at Vienna's Circus Renz. From then on, Italo began training in a specialty for which he showed an uncanny ability.
The Medinis and the Rastellis were friends, and in September 1931, Carlo took Italo to Paris's Cirque Medrano to see Enrico Rastelli (1896-1931). Rastelli, who was universally considered as the world's greatest juggler, was starring in the famous Parisian circus; the opportunity to get a few tips and lessons from the Master, even for a limited time, was not something to be missed! As fate had it, it was also just in time, for Rastelli died unexpectedly three months later.
At age nine, Italo was already an accomplished juggler, and the following year, in 1934, he made his juggling debut in London, as a program attraction(Russian) A circus act that can occupy up to the entire second half of a circus performance. at the Empire of Leicester Square—a major movie house that had been, until 1929, a fabled variety theatre—where the Medini family was showing. In 1935, the young prodigy was featured at the Cirque d'Hiver in Paris, in the pantomimeA circus play, not necessarily mute, with a dramatic story-line (a regular feature in 18th and 19th century circus performances). La Reine de la Sierra, in which he made a strong impression on French audiences.
An Exceptional Juggler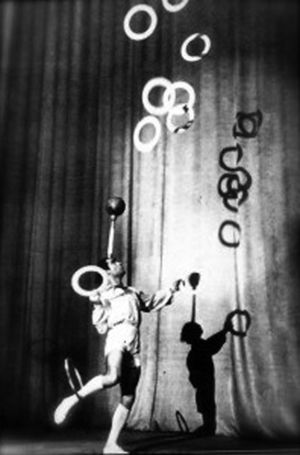 At age nineteen, in 1943 at the famous Scala
varieté
(German, from the French: ''variété'') A German variety show whose acts are mostly circus acts, performed in a cabaret atmosphere. Very popular in Germany before WWII, Varieté shows have experienced a renaissance since the 1980s.
in Berlin, Italo Medini became the first juggler to juggle nine rings while balancing a ball on a stick on his forehead and spinning another ring on his right ankle—a
trick
Any specific exercise in a circus act.
worthy of his idol, the great Rastelli! He also juggled six rings while jump roping on his left foot, and keeping a ring spinning on his right ankle at the same time!
Even as he was performing his amazing solo juggling act, Italo was still working with his family in their clown and acrobatic acts. These included his father; his brother Franco, who was developing into a fine musical augusteIn a classic European clown team, the comic, red-nosed character, as opposed to the elegant, whiteface Clown.; and in time, his younger brother, Enrico (b.1935) and their sister, Adriana (1942-2012)—who, as Audrey Arno, would become a well known singer and actress in France and Germany, and who has been featured in the Folies Bergère show at the Tropicana Hotel and Casino in Las Vegas. During WWII, Italo and Franco also developed an acrobatic dance and musical act, the Fratelli Medini.
(As a sidebar, the Medinis are a good example of the conundrum many circus families face during international conflicts: By birth, Carlo was Italian; Anna, Italo and Franco were French; Adriana was German; and Enrico was English… This is why circus families rarely pay much attention to nationalities and international politics, and consider their belonging to the circus world their proper identity.)
Eventually, in 1948, Italo and Franco cut off the umbilical cord and, with their brother Enrico, went on with their own acrobatic act, the Trio Medini. Their professional package included Italo's juggling act and a musical clown act: It was indeed a good deal for circuses and variety theaters. Then, in 1952, Franco married Elena Carlotti, who had had a small career in the movies before WWII and was part of the Trio Carlotti, a family variety act, and Franco and Elena went their own way. Franco would later create a major talent agency in Paris.
The King Toys And Later
Italo Medini continued his brilliant international career as a solo juggler, playing in major circuses, variety theaters and cabarets all over Europe, and in the United States, in Las Vegas. At the same time, he built a doll-contortion act, The King Toys, with his daughters Martine and Penny. When Penny left the family to marry, Italo's wife, Josiane, joined the act, and later, their son Richard replaced Italo. The King Toys were arguably the best and most elegant act of its genre in the business at that time, and perhaps ever.
Italo retired from performing in the late 1970s, and began a second career as a very successful juggling teacher, first at Annie Fratellini's École Nationale du Cirque in Paris, and then in his own school in Fontenay-sous-Bois, near Paris. Among his many students who later pursued an international career, one can mention Menno Van Dyke, François Borie, and Sampion Bouglione, Jr.. Italo then retired in Italy, where he died on April 9, 2015, at age ninety-one—thirteen months after his twin brother Franco. With Italo Medini's passing, and the passing of Edoardo Raspini (1928-2015) a few months earlier, the last great proponents of the Rastelli school of juggling have gone, and an era went with them.
See Also
Image Gallery