Luisita Leers
From Circopedia
Aerialist
By Dominique Jando
Luisita Leers (1909-1997) was born Luise Krökel in Wiesbaden, Germany, on October 14, 1909. Her mother, Gertrude, was a member of the
Reichenbach
family. A physically powerful woman, she acquired fame with an elegant and unusual acrobatic act, Les
Leandros
, in which she was the
under-stander
In an acrobatic act, the person who is at the base, supporting other acrobats (for example, the base of a human pyramid). Also known as the "bottom Man" (or "Bottom Woman").
. Luisita never knew her biological father, who left the family when she was only two years old. Her mother remarried with Guido Krökel, an aerial contortionist who worked with the
Leers-Arvello Troupe
; their act, which combined Roman Rings and acrobatic pyramids, was mostly an aerial display of strength.
Guido took care of Luisita's artistic education without too much tenderness and made of her an extraordinarily strong female athlete able to hold her own in the Leers-Arvellos's various exhibitions of strength. Luisita made her professional debut at age 11, on March 8, 1920 in Cologne (Köln), working with the troupe on the Roman ringsA pair of small wooden or metallic rings hanging from ropes or straps, used by circus aerialists as well as competition gymnasts.. Soon, she was able to accomplish a one-arm "plange(American, From the French, ''planche'') Acrobatic figure in which one's body is held in a straight horizontal position." and an "iron cross" (which were then supposed to belong exclusively to a male repertoire) and to hold with one arm her hanging stepfather. Meanwhile, she was building a solo trapeze act in which to display her unusual strength. She began her solo career in 1926.
Her remarkable trapeze act quickly drew headlines. It took her to some of the world's most prestigious circuses and variety theaters, from the Wintergarten and the Scala in Berlin to the Roxy in New York, with a four-year stint with Ringling Bros. and Barnum & Bailey from 1928-33. There, she occupied center ring in a program that was often usually rich in stellar aerialists, including Winnie Colleano, the Codonas, the Siegrist-Silbons, and Lillian Leitzel, the undisputed star of the show.
Luisita's Act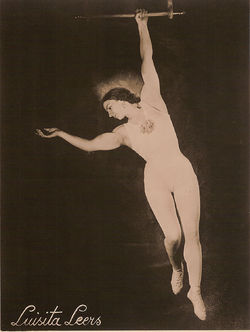 Luisita's act included a neck-hang on the trapeze bar while doing a "side leg scale" (a vertical split holding one leg up), a one-arm "
plange
(American, From the French, ''planche'') Acrobatic figure in which one's body is held in a straight horizontal position.
" (or "
planche
(French) Acrobatic figure in which one's body is held in a straight horizontal position.
"), and a spectacular series of back rotations around the trapeze bar. The most she did in performance was 139 rotations, but she said she was able to do up to 180 without any major stress. When she appeared for the first time at Paris's legendary Cirque
Medrano
in March 1935, the Paris correspondent of
Variety
, the top American trade paper, described her thus: "Luisita Leers stops the show at Medrano this fortnight; [she] is not only a remarkable performer, from a purely acrobatic viewpoint, but has one of those smiles that knocks 'em over and a body that remains beautiful in spite of its extraordinary muscles. She works high without a net. Muscular control is so perfect that her stuff looks easy, but when she hangs by the back of her neck, apparently just as easily as she did her simpler introductory turns, the audience realizes there was something to it all along" (
Variety
, 20 March 1935).
Luisita continued working intermittently in the U.S. until 1936. She appeared in other circus shows and in vaudeville, and then returned permanently to Germany, where the Nazis had recently seized power, paving the way for World War II. When the war broke out, she found herself trapped in her own country. She was eventually unable to work (or train, for that matter), and to make matters worse, the family house was destroyed during the Allies' bombing, along with her props and costumes. When the war ended, Luisita was 36. Out of shape and without equipment or money, she was unable to resume her career. She settled in Braunschweig, in Lower Saxony, where she met her husband, Gerhard Glage (whom she married on August 30, 1952), found employment as a translator, and eventually created her own translating agency. An artist to the end, she also took an interest in sculpture, for which she showed an evident talent. She passed away in 1997, at age eighty-eight.
Image Gallery