Main Page
From Circopedia
Welcome! ✫ Bienvenue! ✫ Willkommen! ✫ Добро Пожаловать!
Bienvenida! ✫ Benvenuto! ✫ 歡迎 ! ✫ Vítejte! ✫ Καλώς ήρθατ ε!
Üdvözöljük! ✫ Добре Дошли! ✫ Welkom! ✫ Ласкаво Просимо!
Velkommen! ✫ Tervetuloa! ✫ Дабро Запрашаем! ✫ Välkommen!
In The Spotlight
THE SCHUMANN DYNASTY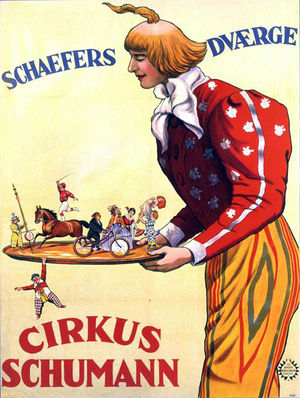 Gotthold Wilhelm Daniel Schumann was born on November 25, 1824 in Weimar, in the state of Thuringia, then part of the German Confederation. His father was a saddle maker, and Gotthold became indeed familiarized with horses at an early age. Although he was not interested in following in his father's footsteps, horses were his passion, and he often helped groom and taking care of the neighbourhood horses. Gotthold had a brother who shared the same passion, Gustav.
Upon their father's death in 1839, fifteen-year-old Gotthold and his brother Gustav joined the famous French company of Benoît and François Tourniaire, which was very popular in the German states since their father, Jacques Tourniaire (1772-1829), had established his company there at the beginning of the nineteenth century—before introducing the circus to Russia in 1825. Gotthold and Gustav became accomplished equestrians, as both bareback and high-schoolA display of equestrian dressage by a rider mounting a horse and leading it into classic moves and steps. (From the French: Haute école) riders, and Gotthold also developed a very good juggling act on horseback. In 1841, they were hired by Eduard Wollschläger (1811-1875), whose company included such future circus luminaries as Wilhelm Carré, Wilhelm Salamonsky and Heinrich Herzog.
When Wollschläger's future rival, Ernst Renz (1815-1892), created his own circus in 1845, he was joined by the Schumann brothers, who formed the bulk of the company together with Renz himself, his wife Antoinette, and a young equestrienneA female equestrian, or horse trainer, horse presenter, or acrobat on horseback. named Miss Adelina. But Renz's enterprise quickly grew, and Gotthold became his Stable Master and principal horse trainer (that is to say, Renz's right hand), a position he kept for nearly two decades. Gotthold and his wife, Elise (of whom not much is known), had nine children: Max (1853-1933), Ernst, Albert (1858-1939), Adele, Louise, Adolf, Martha, Jacques (who became the circus's music conductor) and Emil. Of Gotthold's sons, only Max and Albert would truly make their mark in circus history, although Gotthold's daughter Adele became a talented high-schoolA display of equestrian dressage by a rider mounting a horse and leading it into classic moves and steps. (From the French: Haute école) rider.
In 1863 or 1864 (the date is not sure), Gotthold finally created his own circus company, in partnership with a Swiss equestrian named Carl Antony. Unfortunately, in 1866, all their horses were requisitioned by the Prussian army, which was at war with Austria. Left without horses, which were the mainstay of all circus performances at the time, Gotthold's venture came to an end. He restarted in 1871, this time in association with Heinrich Herzog, whom he had known when they were working together for Wollschläger. Circus Herzog-Schumann didn't limit its tours to the German states: They expanded their route to Scandinavia.... (more...)
New Essays and Biographies
New Videos
New Oral Histories
Circopedia Books
A Message from the Founder
CIRCOPEDIA is a constantly evolving and expanding archive of the international circus. New videos, biographies, essays, and documents are added to the site on a weekly—and sometimes daily—basis. Keep visiting us: even if today you don't find what you're looking for, it may well be here tomorrow! And if you are a serious circus scholar and spot a factual or historical inaccuracy, do not hesitate to contact us: we will definitely consider your remarks and suggestions.
Dominique Jando
Founder and Curator