Main Page
From Circopedia
Welcome! ✫ Bienvenue! ✫ Willkommen! ✫ Добро Пожаловать!
Bienvenida! ✫ Benvenuto! ✫ 歡迎 ! ✫ Vítejte! ✫ Καλώς ήρθατε!
Üdvözöljük! ✫ Добре Дошли! ✫ Welkom! ✫ Ласкаво Просимо!
Velkommen! ✫ Tervetuloa! ✫ Дабро Запрашаем! ✫ Välkommen!
In The Spotlight
THE SISTERS VESQUE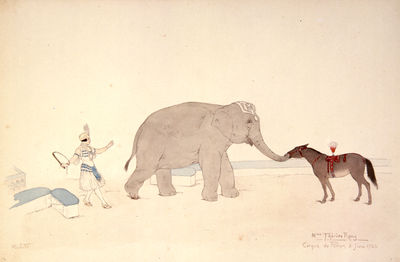 For a half-century (roughly from 1900 to 1950), Marthe (1879-1949) and Juliette (1881-1962) Vesque have documented the Parisian circus scene in meticulously precise paintings of circus artists in performance—about whom they often added fascinating information in their journal, which they wrote from 1904 to 1947. They sketched their subjects live, at the circus or in variety theaters, which they frequented assiduously every week. Their unique art production constitutes perhaps the most remarkable visual documentation existing on the European circus of the first half of the twentieth century.
Known in the French circus milieu as "les demoiselles Vesque," or—somewhat more fittingly because it rings like the name of a circus act—"les sœurs Vesque" (the Vesque sisters), Marthe and Juliette Vesque spent their lives together, never married, and shared not only the same occupation, but also the same passions. Marthe was born in 1879 in Joinville-le-Pont, a suburb of Paris, and Juliette, who was born in Paris, followed her in 1881.
Their father, Julien Vesque (1848-1895), was a respected botanist; he was Maître de Conférences (Professor) at the Institut Agronomique in Paris and had published an important Traité de Botanique agricole et industrielle in 1885. Like most botanists of his era, Julien Vesque used to make meticulous drawings of his observations. He passed his artistic talents on to his daughters, and was not only their first art teacher, but he also taught them how to do precise and accurate renderings through careful observation.... (more...)
New Biographies
New Videos
Featured Oral Histories
A Message from the Editor
CIRCOPEDIA is a constantly evolving and expanding encyclopedia of the international circus. New videos, biographies, essays, and documents are added to the site on a weekly—and sometimes daily—basis. So keep visiting us: even if today you don't find what you're looking for, it may well be here tomorrow! And if you are a serious circus scholar and spot a factual or historical inaccuracy, do not hesitate to contact us: we will definitely consider your remarks and suggestions.
Dominique Jando
Editor/Curator