Main Page
From Circopedia
Welcome! ✫ Bienvenue! ✫ Willkommen! ✫ Добро Пожаловать!
Bienvenida! ✫ Benvenuto! ✫ 歡迎 ! ✫ Vítejte! ✫ Καλώς ήρθατε!
Üdvözöljük! ✫ Добре Дошли! ✫ Welkom! ✫ Ласкаво Просимо!
Velkommen! ✫ Tervetuloa! ✫ Дабро Запрашаем! ✫ Välkommen!
In The Spotlight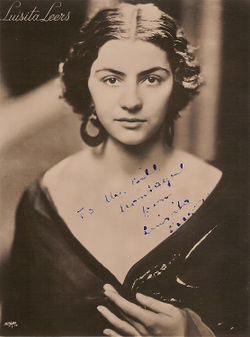 LUISITA LEERS
Luisita Leers (1909-1997) was born Luise Krökel in Wiesbaden, Germany, on October 14, 1909. Her mother, Gertrude, was a member of the Reichenbach family. A physically powerful woman, she acquired fame with an elegant and unusual acrobatic act, Les Leandros, in which she was the under-standerIn an acrobatic act, the person who is at the base, supporting other acrobats (for example, the base of a human pyramid). Also known as the "bottom Man" (or "Bottom Woman").. Luisita never knew her biological father, who left the family when she was only two years old. Her mother remarried with Guido Krökel, an aerial contortionist who worked with the Leers-Arvello Troupe; their act, which combined Roman Rings and acrobatic pyramids, was mostly an aerial display of strength.
Guido took care of Luisita's artistic education without too much tenderness and made of her an extraordinarily strong female athlete able to hold her own in the Leers-Arvellos's various exhibitions of strength. Luisita made her professional debut at age 11, on March 8, 1920 in Cologne (Köln), working with the troupe on the Roman ringsA pair of small wooden or metallic rings hanging from ropes or straps, used by circus aerialists as well as competition gymnasts.. Soon, she was able to accomplish a one-arm "plange(American, From the French, ''planche'') Acrobatic figure in which one's body is held in a straight horizontal position." and an "iron cross" (which were then supposed to belong exclusively to a male repertoire) and to hold with one arm her hanging stepfather. Meanwhile, she was building a solo trapeze act in which to display her unusual strength. She began her solo career in 1926.... (more...)
New Biographies
New Videos
Featured Oral Histories
A Message from the Editor
CIRCOPEDIA is a constantly evolving and expanding encyclopedia of the international circus. New videos, biographies, essays, and documents are added to the site on a weekly—and sometimes daily—basis. So keep visiting us: even if today you don't find what you're looking for, it may well be here tomorrow! And if you are a serious circus scholar and spot a factual or historical inaccuracy, do not hesitate to contact us: we will definitely consider your remarks and suggestions.
Dominique Jando
Editor/Curator