Main Page
From Circopedia
Welcome! ✫ Bienvenue! ✫ Willkommen! ✫ Добро Пожаловать!
Bienvenida! ✫ Benvenuto! ✫ 歡迎 ! ✫ Vítejte! ✫ Καλώς ήρθατε!
Üdvözöljük! ✫ Добре Дошли! ✫ Welkom! ✫ Ласкаво Просимо!
Velkommen! ✫ Tervetuloa! ✫ Дабро Запрашаем! ✫ Välkommen!
In The Spotlight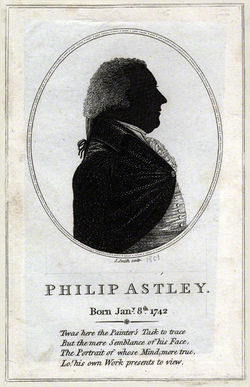 PHILIP ASTLEY
Philip Astley (1742-1814) is considered the creator of the modern circus. He was born January 8, 1742 in Newcastle-under-Lyme, in the West Midlands, England, the son of Edward Astley, a veneer-cutter and cabinet-maker. Edward had a short-fuse and a passion for horses, traits he passed on to his son. Philip Astley was nine years old when he became apprentice to his father.
Two or three years later, the family moved to Lambeth, a borough of London, where Edward Astley opened shop near Westminster Bridge—an area that would become very familiar to young Philip, and where he will later return. For at age 17, Philip left home after one of many disputes with his father and enrolled in the 15th Light Dragoons, a cavalry regiment newly formed by Colonel Granville Elliott.
Six feet tall and endowed with a stentorian voice, Philip Astley was a giant for his time and didn't easily blend into crowds, even when in uniform. A gifted equestrian, he was put in charge of breaking new horses for his regiment. He was also noticed by the celebrated riding and fencing master, Domenico Angelo, who took him under his tutelage and taught him a new method aimed at improving the use of the cavalry broadsword in battle—an expertise Astley would later display in his shows.
In 1761, Astley and his regiment embarked for the Continent to fight alongside King Frederick II of Prussia in the Seven Years' War (1756-63), known as the French and Indian War in America. Corporal Astley fought gallantly: he captured an enemy standard in battle; rescued the Duke of Brunswick, who had fallen behind enemy lines; and returned to England with the rank of Sergeant Major. He obtained his discharge on June 21, 1766 at Derby, and Elliott, now General, presented him with a white charger named Gibraltar. Astley returned to Lambeth with a companion who would later become his wife (of whom little is known); in 1769, she presented him with a son, John Philip Conway Astley (1767-1821)...(more...)
New Biographies
New Videos
Featured Oral Histories
Featured Circopedia Book
A Message from the Editor
CIRCOPEDIA is a constantly evolving and expanding archive of the international circus. New videos, biographies, essays, and documents are added to the site on a weekly—and sometimes daily—basis. Keep visiting us: even if today you don't find what you're looking for, it may well be here tomorrow! And if you are a serious circus scholar and spot a factual or historical inaccuracy, do not hesitate to contact us: we will definitely consider your remarks and suggestions.
Dominique Jando
Founder and Curator