Main Page
From Circopedia
Welcome! ✫ Bienvenue! ✫ Willkommen! ✫ Добро Пожаловать!
Bienvenida! ✫ Benvenuto! ✫ 歡迎 ! ✫ Vítejte! ✫ Καλώς ήρθατ ε!
Üdvözöljük! ✫ Добре Дошли! ✫ Welkom! ✫ Ласкаво Просимо!
Velkommen! ✫ Tervetuloa! ✫ Дабро Запрашаем! ✫ Välkommen!
In The Spotlight
ALFRED COURT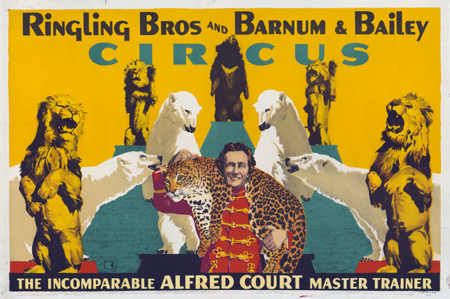 Alfred Court (1883-1977) is perhaps the most remarkable French circus personality of the first half of the twentieth century. Beginning his career as an outstanding acrobat, he became a successful, yet adventurous, circus entrepreneur, first in Mexico and later in Europe, before ending as one of the greatest wild animal trainers of all times—and as such, a major circus star in Europe and America.
He was born into a wealthy family in Marseille, France, on January 1, 1883. His father, Joseph Court-Payen, worked for the family's soap business (Marseille was then the capital of France's soap industry), and his mother was the daughter of the Marquis de Clapier, a rich aristocrat well introduced in political circles. Alfred was the youngest of a family of ten children.
Considering his pedigree, chances that Alfred Court would become a circus acrobat were slim at best. A strong-willed kid, young Alfred was by no means rebellious, and by his own account, he had a happy childhood. But he was the last-born of a large brood, and was not necessarily expected to join in the family business. This gave him some freedom of mind. Furthermore, his parents never discouraged his early passion for circus and acrobatics—a passion he shared with his older brother, Jules (1880-1955).
Circa 1890, Alfred and Jules Court were sent to a Jesuit school in the Prado, a seaside borough of Marseille. Alfred and Jules also started training in gymnastics, which was all the rage among young men at the time: Society amateur circuses were flourishing then—like the famous Cirque Molier in Paris—and these were also the times when another sports enthusiast, the Baron Pierre de Coubertin, revived the Olympic Games (in 1896).
Over the years, Court developed an amazing strength, concealed by his slender build, and an outstanding talent on horizontal bars. An arduous gymnastics specialty, horizontal bars are also one of the most difficult acrobatic acts in the circus repertoire, and is rarely seen today. Yet it was relatively popular and quite alluring in the 1890s, and this was the specialty young Alfred chose to embrace for his upcoming circus debut.... (more...)
New Essays and Biographies
New Videos
New Oral Histories
Circopedia Books
A Message from the Founder
CIRCOPEDIA is a constantly evolving and expanding archive of the international circus. New videos, biographies, essays, and documents are added to the site on a weekly—and sometimes daily—basis. Keep visiting us: even if today you don't find what you're looking for, it may well be here tomorrow! And if you are a serious circus scholar and spot a factual or historical inaccuracy, do not hesitate to contact us: we will definitely consider your remarks and suggestions.
Dominique Jando
Founder and Curator