Main Page
From Circopedia
Welcome! ✫ Bienvenue! ✫ Willkommen! ✫ Добро Пожаловать!
Bienvenida! ✫ Benvenuto! ✫ 歡迎 ! ✫ Vítejte! ✫ Καλώς ήρθατ ε!
Üdvözöljük! ✫ Добре Дошли! ✫ Welkom! ✫ Ласкаво Просимо!
Velkommen! ✫ Tervetuloa! ✫ Дабро Запрашаем! ✫ Välkommen!
In The Spotlight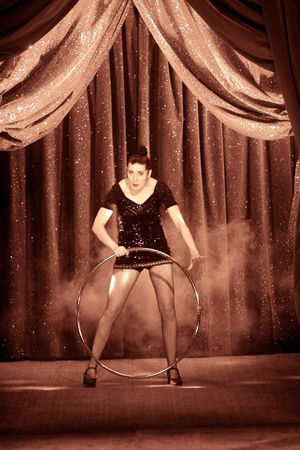 ANGELINA
Born Marie-Aude Jauze and the daughter of a fireman and a psychologist, Angélina was born in France's Paris suburbs. As a child, Marie-Aude had a talent for drawing, and she obtained a Baccalauréat in Art. The next natural step would have been to continue her art education, and she applied for the Ecole Nationale des Beaux Arts in Paris. Unfortunately, she was not accepted. This dramatically changed the course of her career.
Artistically inclined, Marie-Aude tried her chance in the performing arts: She applied for Marcel Marceau's International Mime School, but she failed the audition. Then she tried the movies, without more success. She finally decided to leave Paris and moved to the Toulouse, in the southwest of France, a sunnier and more relaxed place to consider her future. Toulouse was the seat of a well-known circus school, the Lido, which had shown over the years a remarkable talent for creating acts with a strong touch of humor.
Marie-Aude went there to take evening classes, and upon discovering that she was already too old to shine in acrobatics, she opted for trapeze—where she could still do something with the limited skills her age allowed her. Her strong imagination and her sense of humor were a good fit with the Lido's approach to circus arts. In time, Marie-Aude became Angélina, a tired circus artist of indefinite age, still performing her worn-out acts—a trapeze presentation, and a hula-hoop exhibition. Both were comedy acts, to which she added a good dose of verbal humor.... (more...)
New Essays and Biographies
New Videos
New Oral Histories
Circopedia Books
A Message from the Founder
CIRCOPEDIA is a constantly evolving and expanding archive of the international circus. New videos, biographies, essays, and documents are added to the site on a weekly—and sometimes daily—basis. Keep visiting us: even if today you don't find what you're looking for, it may well be here tomorrow! And if you are a serious circus scholar and spot a factual or historical inaccuracy, do not hesitate to contact us: we will definitely consider your remarks and suggestions.
Dominique Jando
Founder and Curator