Sarah Schwarz
From Circopedia
Acrobat, Tight Wire Dancer
By Dominique Jando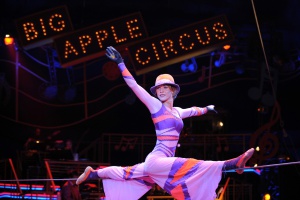 Sarah Schwarz was born in Hofgeismar, near Hannover, in Germany, on January 28, 1974. Her parents, Hella and Bert, had nothing to do with show business, but her father, a pastor, had created a youth circus,
Giovanni's Children Circus
, named after his church of St. John the Baptist—St. Giovanni in Italian, which, thought Bert, had a better "circus" feel! The idea was to give kids an occupation during their vacations. Thus, for ten years, Sarah and her siblings spent their vacations training in circus arts, and performing on tour with the circus. Circus quickly became Sarah's true passion.
In 1994, after graduating from high school, Sarah went to Paris and enrolled into Annie Fratellini's Ecole Nationale de Cirque (today's Académie Fratellini), where she got her professional training, and specialized in tight wire under the great tight wire acrobat turned teacher, Manolo Dos Santos. She subsequently went to work at Cirque Franconi, Cirque Christiane Bouglione, at the all-female, avant-garde Cirque de Barbarie, at Circo da Madrugada in Brazil, Circus Roncalli in Germany, and Berlin's WinterGarten variete, among other venues.
Between engagements, Sarah also modeled for print advertising, and she returned occasionally to the Fratellini School to teach tight wire to a new generation of circus performers. From 2006-2009 she went to the United States, where she became a resident member of the Big Apple Circus's company. Beside her own tight wire act, she performed there in a variety of other acts, including an acrobatic adagio with Virgile Peyramaure and Andrey Mantchev.
Sarah returned to Europe at the end of the Big Apple Circus's 2008-2009 season. She has since appeared in the Giffords Circus production of Yasmine, a circus musical about and starring fellow Big Apple Circus alumna, Yasmine Smart, which toured England during the Summer of 2010, and where she played the part of Olga Smart, Yasmine's mother.
See Also
Image Gallery